Want to know all there is to know about upcoming Star Wars roleplaying books? Look no further and check this page!
Below the shortlist is a complete listing with solicitations, publisher info, and pre-order links (where available)! Click on the covers to see a bigger image!
Note that prices given are Suggested Retail Prices (SRP). Pre-order prices at the Amazon-links are usually lower!
Enjoy!
_________________________________________________________________

August 16, 2018
STAR WARS: AGE OF REBELLION – CYPHERS AND MASKS
A Sourcebook for Spies
hardcover
1st Quarter 2019
STAR WARS: RISE OF THE SEPARATISTS
An Era Sourcebook
hardcover
_________________________________________________________________

AUGUST 16, 2018
STAR WARS: AGE OF REBELLION – CYPHERS AND MASKS
A Sourcebook for Spies
hardcover
publisher info:
hardcover (96 pages)
Fantasy Flight Games
FFG catalog number: SWA47
$ 29.95
solicitation copy:
Not every victory is achieved at the end of a blaster barrel or by the signing of a treaty. Spies do the majority of the work, finding out where the soldiers need to deploy and what would make the enemy wish to surrender. By engaging in the most unconventional of warfare, spies save lives—and take them—in secret. Often uncelebrated, their vital work is necessary if there is to be any hope of toppling the Empire.
Cyphers and Masks is a sourcebook for the Star Wars: Age of Rebellion Roleplaying Game that greatly expands the options and opportunities for the Spy career. At 96 full-color pages, Cyphers and Masks includes new specializations and species perfect for starting a new campaign or integrating into existing ones. New vehicles, equipment, and droids designed to be assets and adversaries to characters engaging in clandestine operations are included with new rules for utilizing the skills most often associated with Spies and their tradecraft. Gamemasters are also given additional tools and guidance for building stories for Spy characters with an emphasis on Intelligence and Counterintelligence operations.
from the announcement:
Far from the battlefields of Hoth and the skies of Yavin, the Rebellion is waging a secret war. While it is not completely free of bloodshed, this war is fought primarily with information, deception, and lies. The spies of the Rebellion infiltrate every facet of Imperial life, working alone or in teams to accomplish feats a traditional soldier could never hope to perform. An imposter at court can sow discord among a feudal planet's noble houses. A disguised assassin can silence a critical Imperial mouthpiece. An overheard conversation can warn of danger and save the lives of thousands of Rebels. A single data drive can reveal the secret to bringing the Emperor's greatest achievement to ruin.
links:
USA: ffg announcement / ffg products page
_________________________________________________________________

1st Quarter 2019
STAR WARS: RISE OF THE SEPARATISTS
An era Sourcebook
hardcover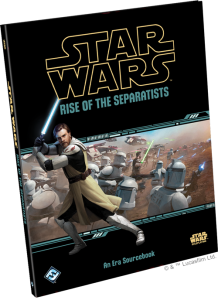 publisher info:
hardcover (144 pages)
Fantasy Flight Games
FFG catalog number: SWR11
ISBN 978-1-6334-4343-3
$ 39.95
solicitation copy:
Fantasy Flight Games is proud to announce Rise of the Separatists, a new Era Sourcebook for the Star Wars Roleplaying Game!
Rise of the Separatists explores the early days of the Clone Wars, and is fully compatible with every Star Wars Roleplaying Game Line including Edge of the Empire, Age of Rebellion, and Force and Destiny!
Within this 144 page sourcebook, you'll find expanded player character options, new weapons, gear, and vehicles, profiles of famous Clone Wars era characters and GM guidance for running a campaign in this era, and more!
from the announcement:
For generations, the Jedi Knights have been guardians of peace and justice in the Republic. But now they face a challenge like never before. With the Battle of Geonosis, the Clone Wars have begun. Battles rage across the galaxy as the Jedi and the Grand Army of the Republic fight back against the sinister agents and indefatigable droid armies of the Confederacy of Independent Systems. Meanwhile, the diplomats and representatives of the Galactic Senate work for peace and forge political alliances. Amid the chaos, looters, salvagers, and other fringers profit from the detritus of war, or simply try to survive.
Rise of the Separatists brings the Clone Wars to your tabletop. The war between the Republic and Separatists presents plenty of narrative opportunities for heroes to find adventure. In a war for the galaxy, what role will you play?
links:
USA: ffg announcement / ffg products page
_________________________________________________________________