Here's the latest on upcoming Star Wars variant cover for single comics from Marvel! Below the shortlist of regular issues is a complete listing with solicitations, publisher info, previews, and pre-order links! Click on the covers and preview-images to see a bigger image!
To see more preview-images, follow my accompanying facebook page! Solicitation texts and previews are always published underneath the regular, newsstand covers!
Enjoy! Happy reading and collecting!!!!
______________________________________________________________
As an Amazon Associate I earn from qualifying purchases
www.starwarstimeline.com is a participant in the Amazon Services LLC Associates Program, an affiliate advertising program designed to provide a means for sites to earn advertising fees by advertising and linking to Amazon.com.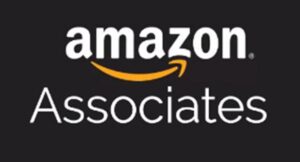 ______________________________________________________________

April 13, 2022
STAR WARS # 22
Crimson Reign
STAR WARS: DARTH VADER # 22
Crimson Reign
April 20, 2022
STAR WARS: THE HIGH REPUBLIC # 15 – SECOND PRINTING

April 27, 2022
STAR WARS: CRIMSON REIGN  # 4 (of 5)
STAR WARS: HAN SOLO & CHEWBACCA # 1 – SECOND PRINTING

May 4, 2022
STAR WARS # 23
Crimson Reign
STAR WARS: DOCTOR APHRA # 20
Crimson Reign
STAR WARS: GALACTIC STARCRUISER – HALCYON LEGACY # 3 (of 5)
STAR WARS: OBI-WAN # 1 (of 5)
KRRSANTAN: STAR WARS TALES # 1
May 11, 2022
STAR WARS: HAN SOLO & CHEWBACCA # 2
May 18, 2022
STAR WARS: BOUNTY HUNTERS # 23
STAR WARS: GALACTIC STARCRUISER – HALCYON LEGACY # 4 (of 5)

May 25, 2022
STAR WARS: DARTH VADER # 23
STAR WARS: DOCTOR APHRA # 21
May 26, 2022
STAR WARS: DARTH VADER # 22
Crimson Reign

Comic Book Exclusives / WhatNot.com variant cover by E.M. Gist
June 1, 2022
STAR WARS # 24

June 8, 2022
STAR WARS: DARTH VADER # 24
STAR WARS: GALACTIC STARCRUISER: HALCYON LEGACY # 5 (of 5)
STAR WARS: OBI-WAN # 2 (of 5)
June 15, 2022
STAR WARS: BOUNTY HUNTERS # 24

June 22, 2022
STAR WARS: CRIMSON REIGN # 5
STAR WARS: DOCTOR APHRA # 22
STAR WARS: THE MANDALORIAN # 1 (of 8)

June 29, 2022
STAR WARS: HAN SOLO & CHEWBACCA # 3
July 6, 2022
STAR WARS # 25

also in July 2022
STAR WARS: HAN SOLO & CHEWBACCA # 4
_________________________________________________________________

STAR WARS # 22
Crimson Reign

STAR WARS: DARTH VADER # 22
Crimson Reign
_________________________________________________________________
APRIL 27, 2022
STAR WARS: CRIMSON REIGN # 4 (of 5)
connecting variant cover by Ario Arindito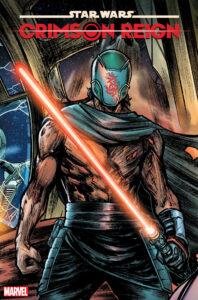 ________
Enemies of Dawn variant cover by Clayton Crain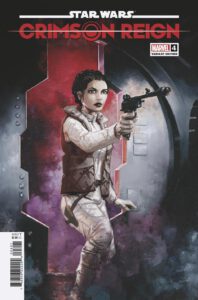 ________
Sabacc Card variant cover (1:25) by David López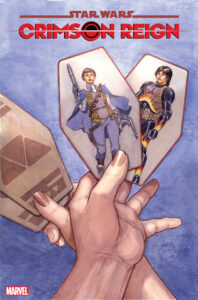 ________
Syndicate variant cover by Khoi Pham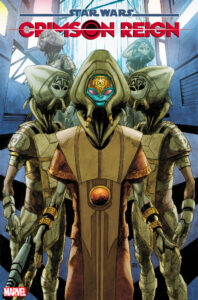 ________
Knights of Ren variant cover by Rahzzah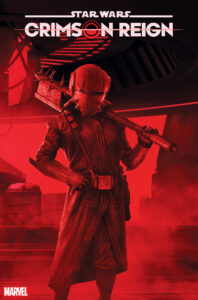 ________
Warriors of Dawn variant cover by Valerio Giangiordano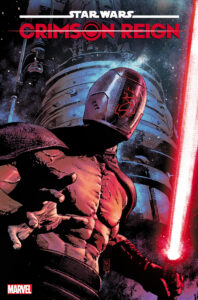 ________
Traitor of the Dawn variant cover by Paul Renaud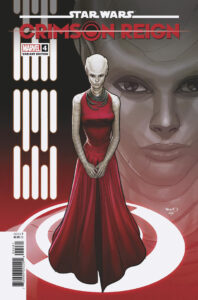 ________
Unknown Comic Books variant covers Tyler Kirkham
_________________________________________________________________